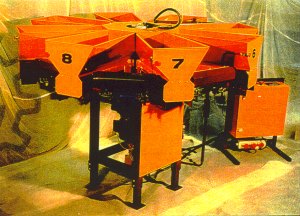 This carousel has 8-bag filling heads and 8-stations. Combined with a Lockwood computerized weigher it provides optimum production and versatility in packing (large) produce. The Lockwood 8-station carousel is a semi- automatic filling machine for packing large potatoes, onions, carrots and fruit. The singulating stationbelt is specially designed to minimize damage to produce and prevent jamming.

The control box, with display, is easy to operate and is used to fine tune the machine. And it takes care of the synchronization of signals to and from the weigher.

Operation:
An operator puts the bag under the carousel bagholder and the carousel clamps the bag while still turning. A photo eye detects the bag and when this bagholder is in the right position the carousel signals to the weigher, ready to receive produce. If no bag is present the station passes without receiving a charge.

After the bag has been filled it is automatically released at an adjustable location. Jamming of produce, bridging, will be detected by a photo-eye. At this point of release the bags may be closed manually or automatically.

Electric Power:
1.1kW, 400 V with Neutral and Earth, 50 Hz. (Eur.)

1.1kW, 220 V with Earth, 60 Hz. (USA/CAN)

Weight:
appr. 700 kg.

Dimensions:
- Diameter: 2200mm (7'2")

- Height: min. 1450mm (4'8")

max. 1750mm (5'8")

Conditioned air supply:
6 Bar (86 PSI), appr. 85 l/min.

Packagings:
All types of bags like mesh, poly, paper and vexar up to 50 kg (100 lbs).

Output:
Depending on Product,

65 bags/min, based on 2,5 kg

(5 lbs) bags, with holding hopper.

Options:
Can be combined with the Lockwood BagPatter and/or holding hopper. Lockwood can also deliver an automatic TakeAway.


---