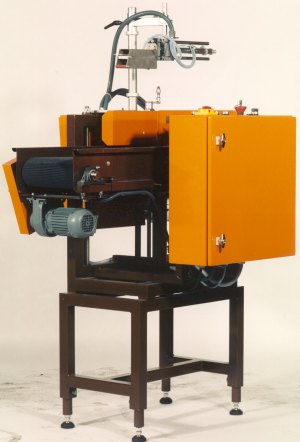 Filling and closing machine for loose premade wicketed polyethelene bags up to 10 kg. Especially for carrots with tilting bucket.

This fully automatic and compact built machine is suitable for small series of packages also when using several variations of film. The PLC controls a smoothly running machine. These packages can be supplied by hand or with the help of a weighing machine. Closing of the bags is possible with a tapesealer, a metal clip, or a Kwik Lok closure. In addition to potatoes, onions and sprouts you can also pack bulk and granular products of the food and non-food sector.

Operation:

The film bags will be put on a bag hanger. A vacuum system opens the bag. The bag grasper will grab the first bag and position it in front of the filling opening. The supporting conveyor transports the filled bag to the closing device.

Electric power:

1,5 kW, 400 V with Neutral and Earth, 50 Hz.
1,5 kW, 220 V with Earth, 60 Hz.

Weight:

Appr. 300 kg.

Conditioned air supply:

6 Bar, appr. 100 l/min.

Packages:

PE-bags up to 10 kg.

Capacity:

Depending on product, capacity of 30 packages/min.

Options:

Bag closing with tapesealer, metal clip or Kwik Lok.
Increased height and/or movable.
---